Swimming to Inishkeel
Ekstasis
Concrete Republic
Traffic Island
Prison Farm

Watchtower
Katrina
The Dog Tail Wars
Empire/Umpire
Hostis
Body Fluid Bed
Hanging Creatures

Homeless Deaths
Poster Project
Full Shackle
Sapa
Swollen Eye
Frontiers
Deed

Every Revolution
Forces
Boarder
Surveillance Chair
Suite
Cruise Control

Ostrich
The Big Silence
Asylum Screamed
Think No Evil
Belfast
Crisus
HOMELESS DEATHS POSTER PROJECT

2001
Coalition on Homelessness
San Francisco, CA

The Homeless Deaths Poster Project began when I was waiting in traffic outside the San Francisco Symphony and watched couples in formal attire stepping over a sleeping homeless person as they made their way into the show. Taking my cue from the Mothers of the Disappeared in Argentina, I decided to produce 183 life-sized posters, one for each person who had died on the streets of San Francisco in 2000. I wanted the posters to be stark singular images, each one a vacuum or negative space where a person once stood. I hoped to evoke a sense that they had been among us but now were gone.

I approached the Coalition on Homelessness, and together we created Artists Against Homeless Deaths, an affinity group of artists, housing and poverty advocates, and other social justice and human rights activists. It seemed absurd to me that 183 people could die on the streets in the world's most expensive housing market during an unprecedented economic boom. Rather than preaching or moralizing, the hope was simply to present the facts through anonymous artistic direct action. Groups were assembled and given a district to target, then in one night, between 10pm, December 20th, and 5am, December 21st, all the posters were pasted throughout the city. Where possible they were hung at the place where the body of a homeless person had been found.

Since I knew little about homelessness, it became the charge of the Coalition on Homelessness to present potential ways of reducing this number. This was done at a press conference on December 21st (the shortest day of the year) at the Housing Rights Committee of San Francisco. Later that evening a memorial service organized by the Coalition took place across form City Hall, where the names of those who died were called out as a bell rang in their honor.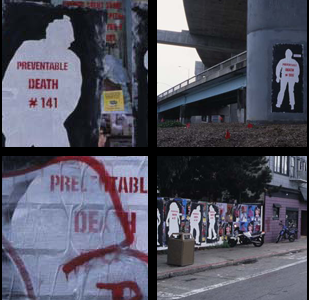 click to view images