Swimming to Inishkeel
Ekstasis
Concrete Republic
Traffic Island
Prison Farm

Watchtower
Katrina
The Dog Tail Wars
Empire/Umpire
Hostis
Body Fluid Bed
Hanging Creatures

Homeless Deaths
Poster Project
Full Shackle
Sapa
Swollen Eye
Frontiers
Deed

Every Revolution
Forces
Boarder
Surveillance Chair
Suite
Cruise Control

Ostrich
The Big Silence
Asylum Screamed
Think No Evil
Belfast
Crisus
BELFAST

1988
University of Ulster
Belfast, Northern Ireland

This is my undergraduate degree show from the University of Ulster. The work is all hand-built stoneware that was then assembled. The floor is sand brought from Narian Strand in Donegal. The work grew out of my interest in crushed cars, and using them as a metaphor for the way one has to bend and contort to function in society. Belfast has a large scrap metal industry and so these mountains of cars were part of the landscape.
< back to Work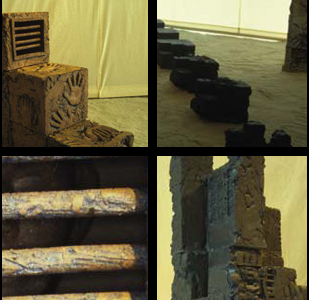 click to view images